Other Brands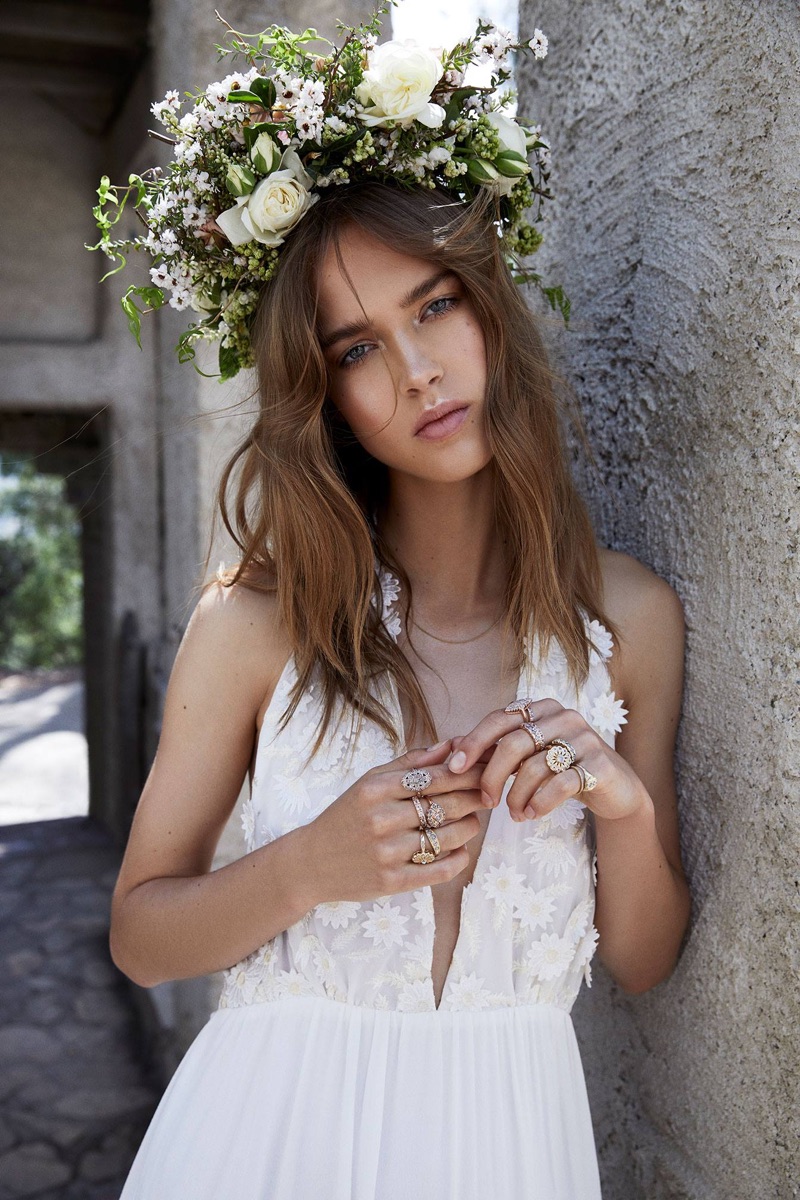 A bridal picture from the popular brand For Love Lemons.
As Ljupka Cvetanova said in The New Land, Give a man a finger, he'll put a wedding ring on it! But, which engagement ring is perfect for you? Now, that's a question many women ponder. When it comes to your engagement, 2018 provides many trends to approach. Taking into account modern norms, your choices for engagement rings are endless.
Your engagement is ultimately one of the most joyous occasions leading up to the wedding. People will be asking to see your ring and inquire about wedding plans. Why not make your engagement ring a conversational piece? Although, you have probably tried on a few engagement rings while browsing the latest styles at jewelers, here's a guide to engagement ring styles for 2018.
CLASSIC ENGAGEMENT RING
Solitaire Diamond Six-Prong Knife-Edge Engagement Ring from Ritani in 14kt White Gold for a Round Center Stone with a 1.50 Carat Diamond.
If you have an affection for tradition, that's no problem. Traditionally, a classic engagement ring often features solitaires and pavé bands. Most importantly, the timeless ring features a round-cut stone that is set in white gold or platinum. The simplicity of the classic engagement ring draws attention to your shining new stone. While this style is pretty straight-forward, there are a number of cuts to chose from for stones. You can get round-cut, oval-shaped, radiant-cut, princess-cut, or radiant-cut.
ENGAGEMENT RINGS WITH COLORED STONES
Round Tanzanite Halo Ring with Diamond Accents from Angara
Opt for color if you want to get on board with one of the most popular engagement ring trends. Colored gemstones offer a gorgeous way to bring uniqueness to this special time in your life. Some of the bestsellers amongst gemstones include pale pink. They look amazing set in yellow gold. You can also opt for other bolder colors such as purple or ruby.
EAST-WEST SET ENGAGEMENT RING
East-West Classic Emerald Engagement Ring from Diamond Nexus
One of the hottest engagement ring trends is the choice to do an East-West setting. Now you may be thinking to yourself, How is this different than the classic setting? Well, when you look at a traditional engagement ring, the stone is placed vertically on the band. When a jeweler does an East-West setting, they set the stone horizontally. This change in setting allows for further personalization. It opens up options for you to pick a variety of cuts and stone types. You can choose anything from pear and emerald to marquise.
OPEN ENGAGEMENT RINGS
Mizuki Open Pearl & Diamond Bezel Ring from Bergdorf Goodman
The modern wedding may call for a modern engagement ring. If you're a woman who wants to stand out from the crowd, look no further than open engagement rings. The open design allows brides to choose two stones. You can make an extravagant statement with two diamonds. However, you can easily pair a diamond with a colored gemstone.
ROSE GOLD ENGAGEMENT RINGS
14k Rose Gold Luxe Ballad Diamond Ring 1/4 Ct. Tw.) with 0.30 Carat Round Diamond from Brilliant Earth
A classic engagement trend is none other than the rose gold ring. It's a timeless trend that reoccurs continuously. This fact is perhaps because of the stunning visual of a pink-gold ring color that complements a mixture of gold metal and copper. Diamonds are radiant against rose gold and the perfect gemstone can shine brightly. You can also contrast rose gold with a platinum or white gold setting. In addition to a variety of new rose gold styles, there are plenty of vintage rings that deserve a closer look.
ENGAGEMENT ETERNITY BANDS
Classic Diamond Eternity Ring from Blue Nile
If you're a no-fuss kind of bride, you may fall in love with the eternity band. Instead of investing in a traditional stone, the eternity band leaves all the bling to the band. While the height of a solitaire ring can annoy some women, the eternity band is a comfortable fit for everyday wear. You can even get it with baguettes and trillions.
UNIQUE ENGAGEMENT STONE CUTS
1/3 CT. T.W. Diamond Heart Frame Engagement Ring in Sterling Silver from Zales
Custom ups the anté when it comes to selecting a unique engagement ring. Websites such as Brit highlights a current trend that sees women seeking out unique stone cuts for their engagement ring. Upscale jewelers can work with you on a custom treatment or you can even go vintage for a stellar ring. Whatever you do, just keep an open mind and think about how the cut suits your personality.
OVAL-CUT DIAMOND ENGAGEMENT RINGS
1 CT. T.W. Composite Oval Diamond Frame Engagement Ring in 14K White Gold from Zales
A popular alternative to round and emerald shaped engagement rings are oval-cut diamonds. The elongated shape of the oval-cut diamond helps to make your fingers appear slender. Since the shape of the oval can vary drastically from ring to ring, you can pick out the perfect style that suits your hand. If you're on the fence about an oval-cut diamond, don't fret.
While most of the styles feature a more elongated oval, there are plenty that are mostly round. Experts also suggest that you should be careful not to get a ring with the bowtie effect. The bowtie effect happens when light doesn't bounce against the middle of your stone. When this happens, you see a dark bowtie shape across the center of your ring. Therefore, you want to find an oval-cut diamond where this doesn't happen.
CHEVRON BANDED ENGAGEMENT RINGS
Nouveau Diamond Ring (1/4 CT. TW.) with 0.75 Carat Pear Diamond from Brilliant Earth
Mix up your wedding set with a chevron band. Chevron bands feature an elegant v-shape. While you may think that a chevron band would not complement a classic round ring, it brings a modern element to the set. If the v-shape is too sharp of a choice for you, don't worry. They also have chevron bands that are more curved than pointed. You can easily find Orbit and Chrysalis bands. The Orbit band is shallow like a bracket, while the Chrysalis band features a deep v, similar to calligraphy.
Other Brands
Grace Elizabeth lands the February 2018 cover of The Daily Front Row. In front of the lens of Carin Backoff, the brunette dazzles in diamonds while wearing a robe. For the accompanying spread, Grace poses in glamorous ensembles. Stylist Simon Robins dresses the American beauty wearing designs from the likes of Versace and Dior.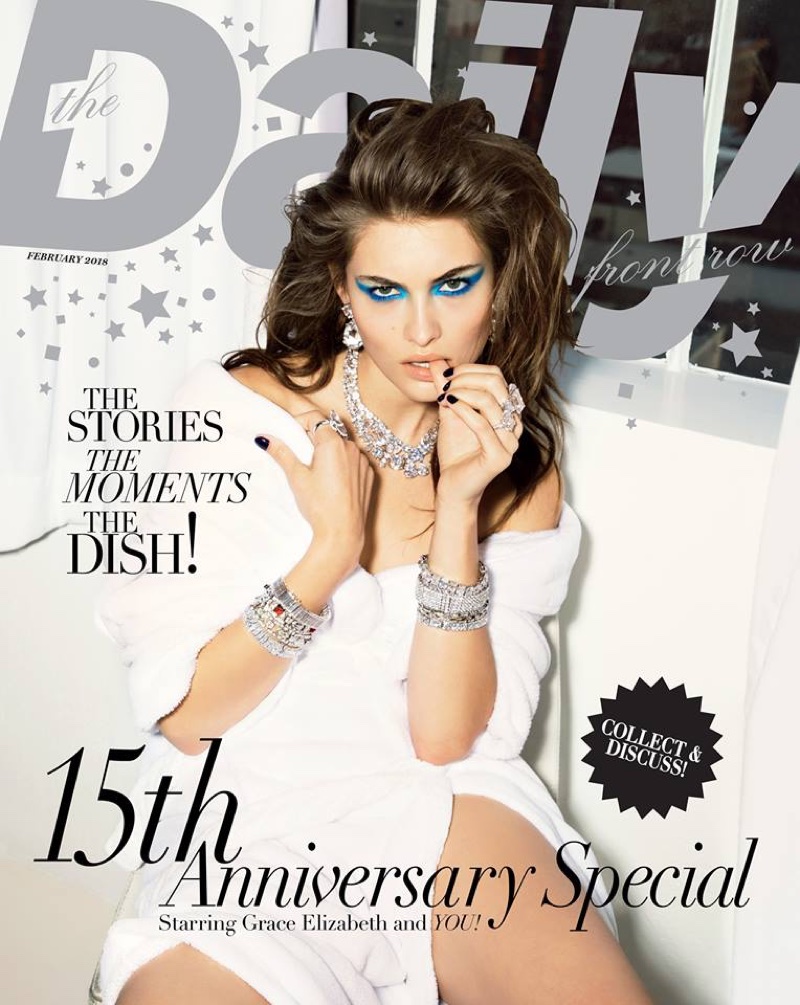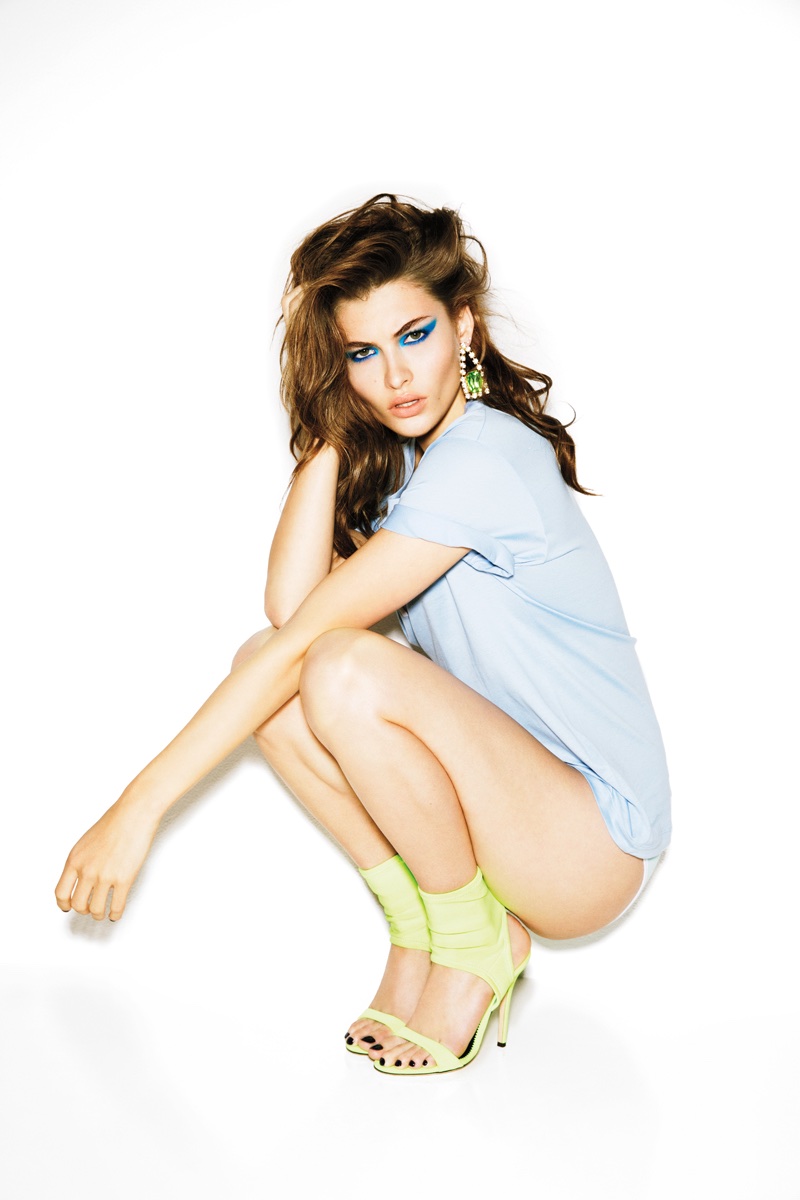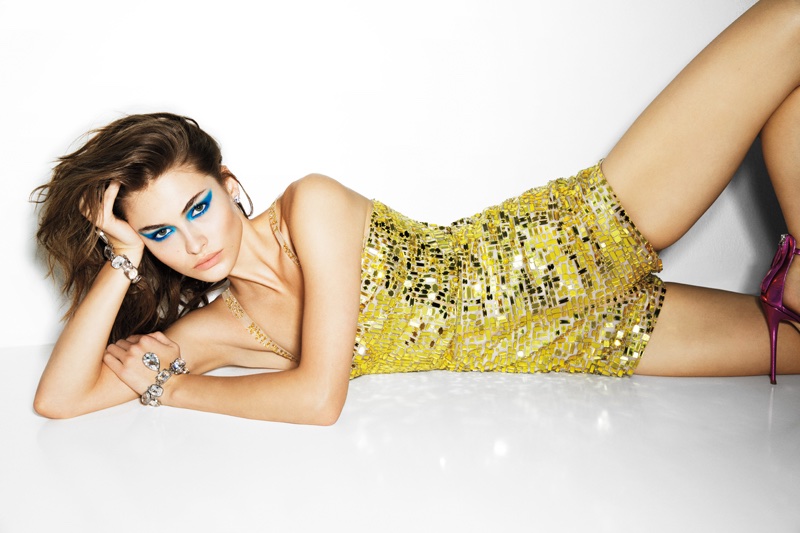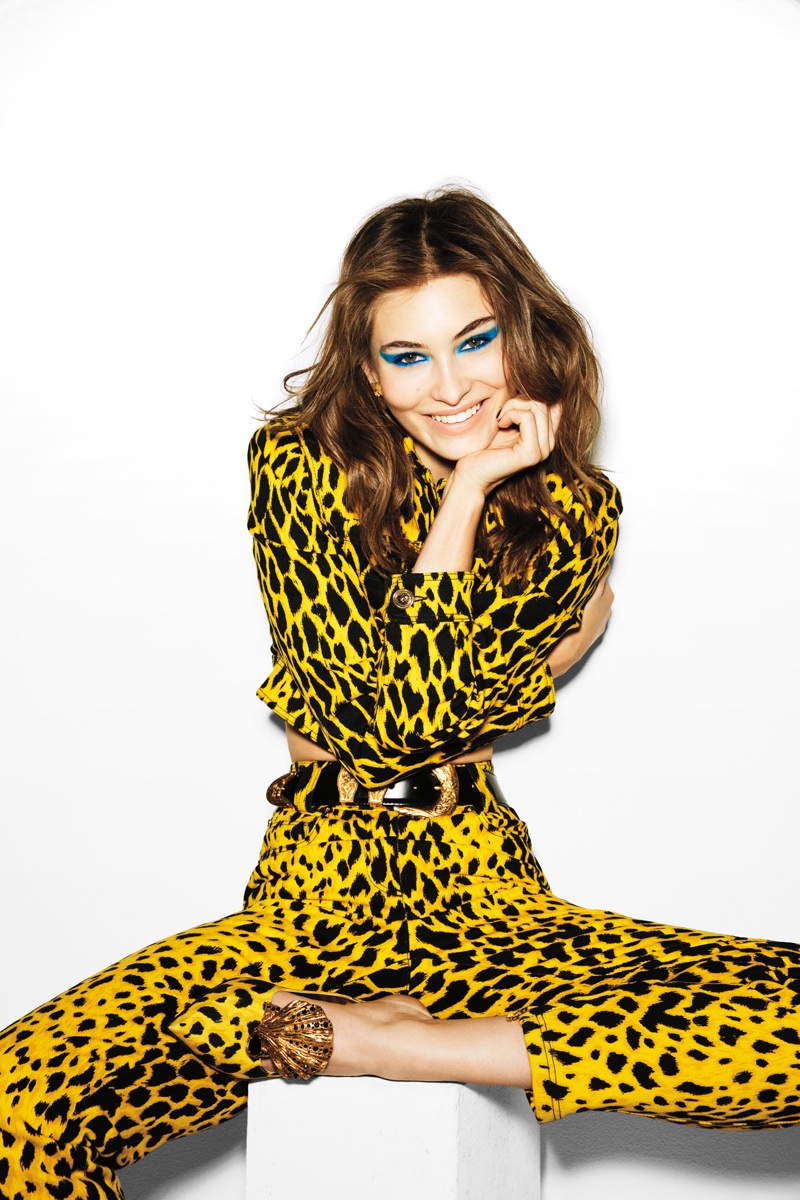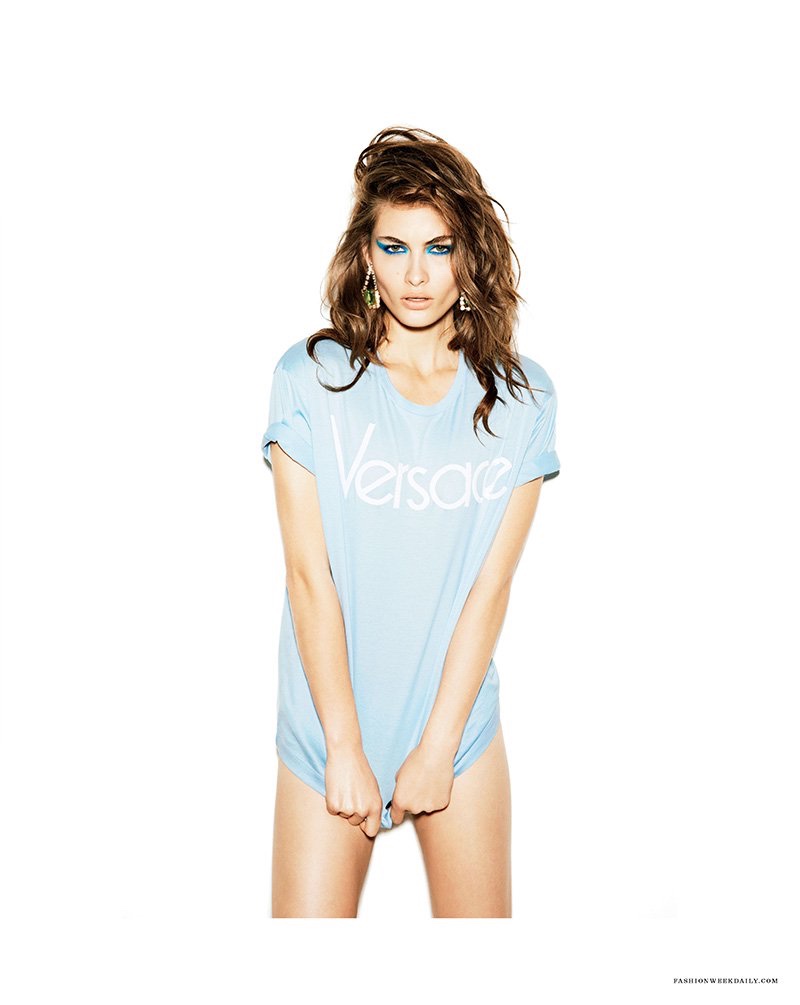 Other Brands
Remember the Kan I F Shoulder Bag? It's the ultimate modern handbag for the 21th century. The logo, the bag, the look, everything is just perfect and obviously – it was an instant-runway-hit. Now to expand the line, the house created the Fendi Kan I F Shopping Bag. It's a new bag for the Spring Summer 2018 Collection.
The Design
A clean-cut shopping bag with minimalistic-chic finishing, the Kan I F tote bag is definitely a must have for the modern style. The most important part of the design is the centralized reversed F logo. This modern piece is not only stunning-beyond-words, but it's also a brand-new logo of Fendi. The double F logo is crafted with colored hardware (in the same shade as the handbag).
Made from strong and smooth calf leather, use this handbag without much care – there is no need for continues maintenance. The long top handle can be used to carry by hand or placed nonchalantly over one shoulder.
The Interior
Of course there is more. The interior comes with a chic detachable zipped pouch. And there is sufficient space to carry almost anything you need on daily basis and more. It can even hold your Macbook Pro.
The Prices And Sizes
Measuring 11' x 14.5' x 5' (H x W x D) inches, priced at $1290 USD, €980 EUR, £990 GBP, $1850 SGD, ¥154440 JPY.
Where To Shop Fendi Kan I F Shopping Bag?
1. MyTheresa – The classic black color can be found here…
2. Farfetch – More colors are available here…
More Images And Colors
Other Brands
Leading model Vittoria Ceretti turns up the glam factor for the February 2018 issue of W Magazine. Photographed by Mert & Marcus, the brunette stunner poses in fabulous looks from the spring collections. Stylist Katie Grand dresses Vittoria in sweeping gowns, wide-brimmed hats and chic separates. The Italian beauty shines wearing the designs of Saint Laurent, Gucci, Versace and more.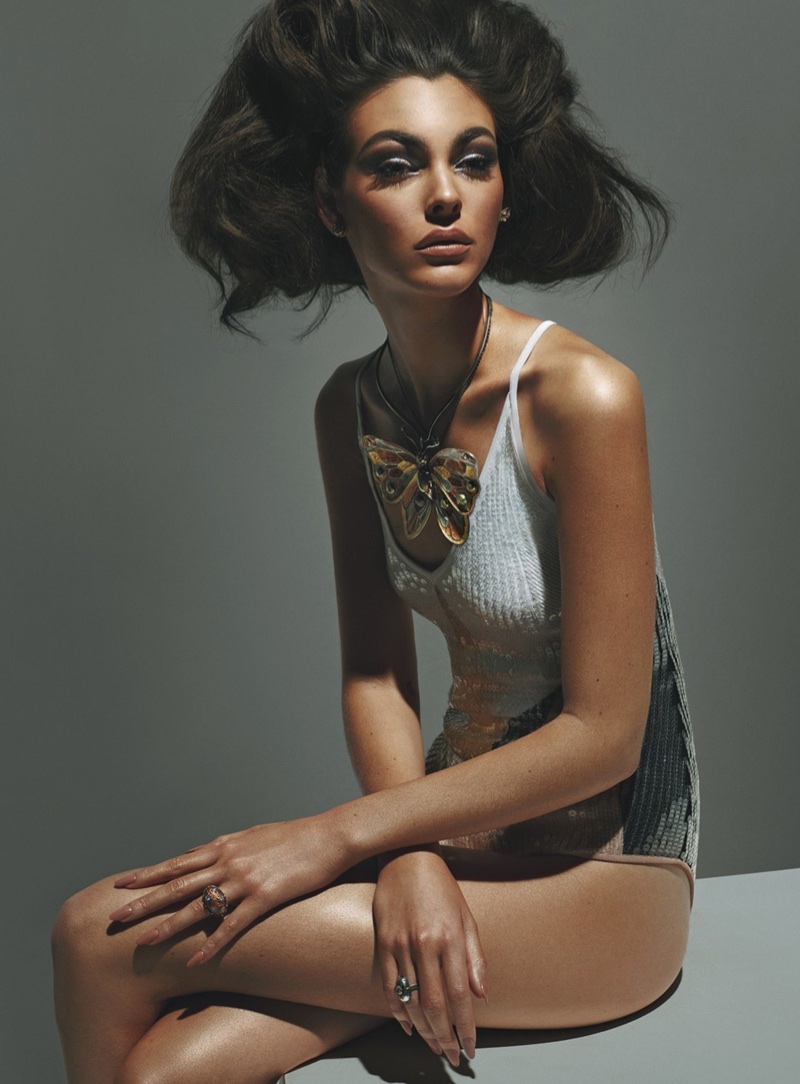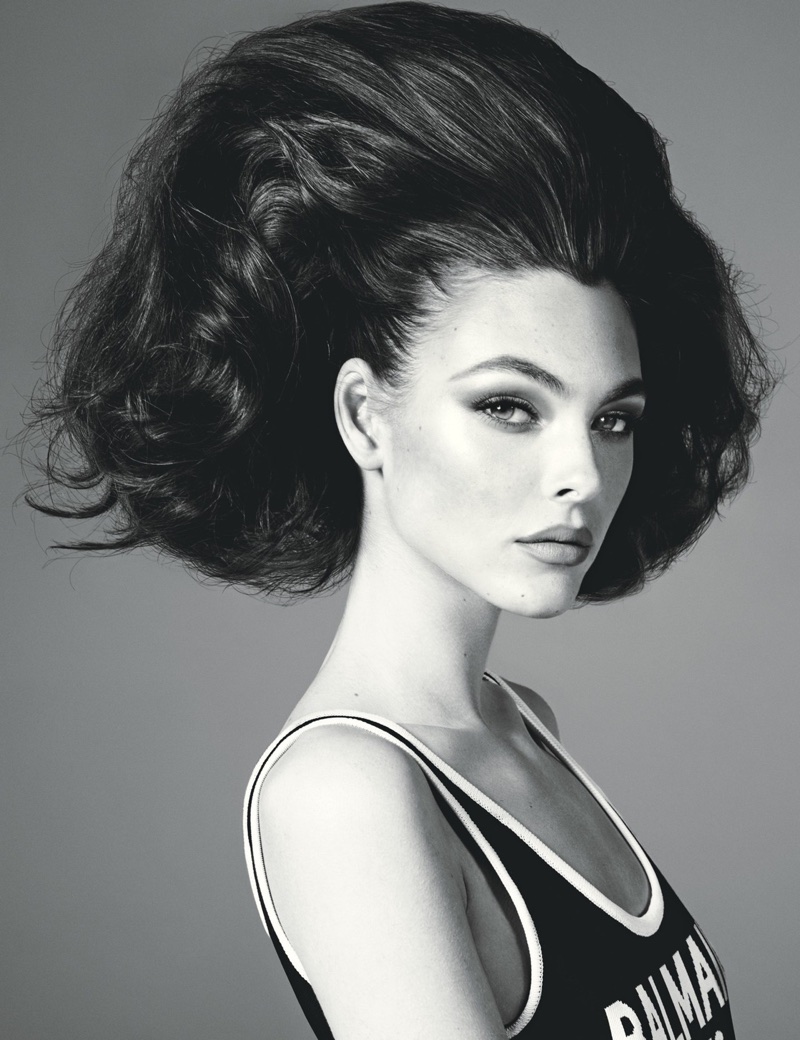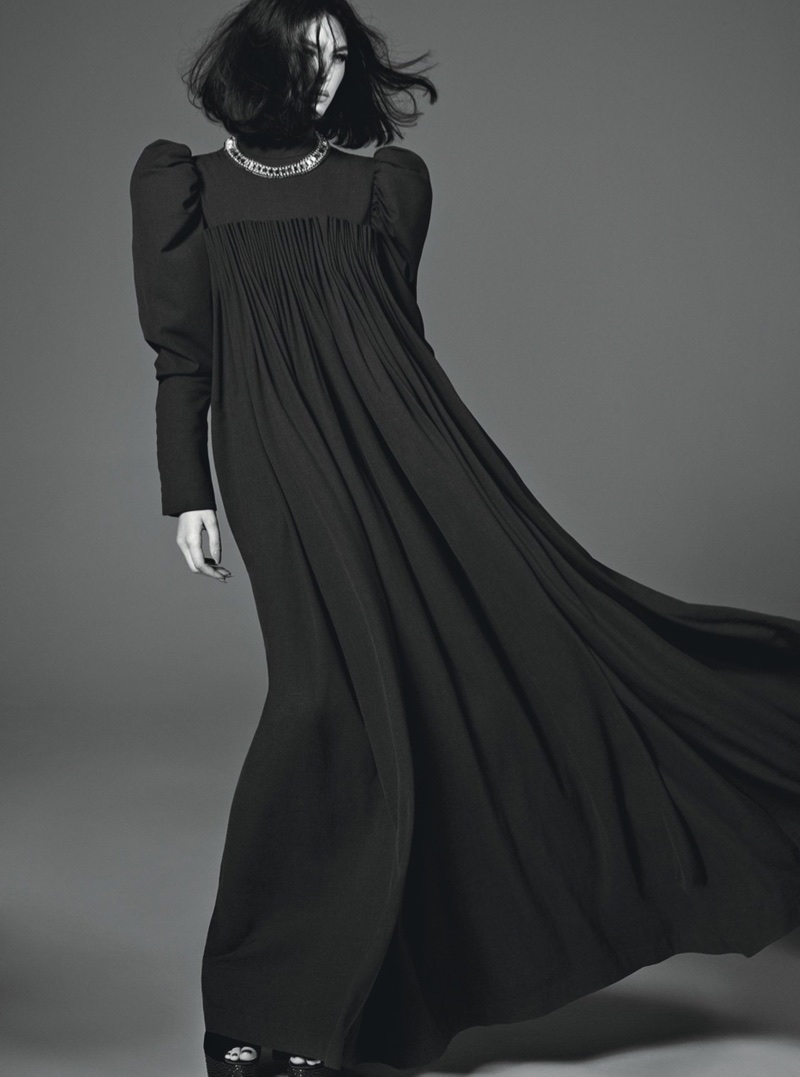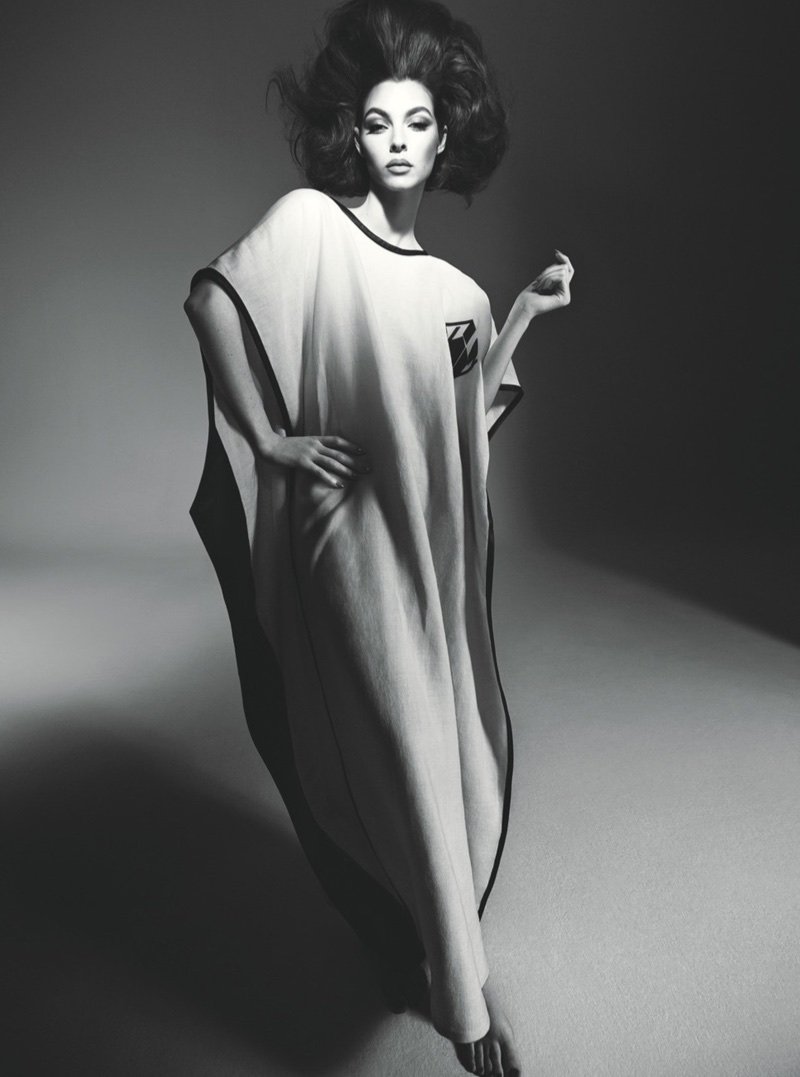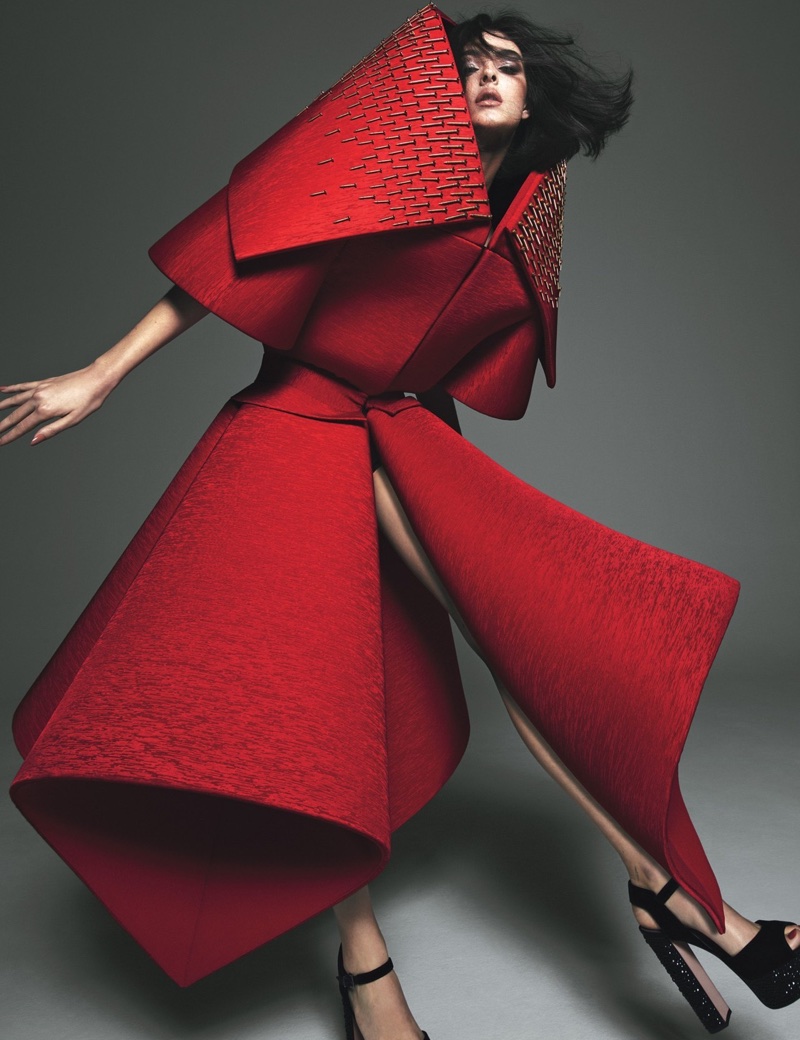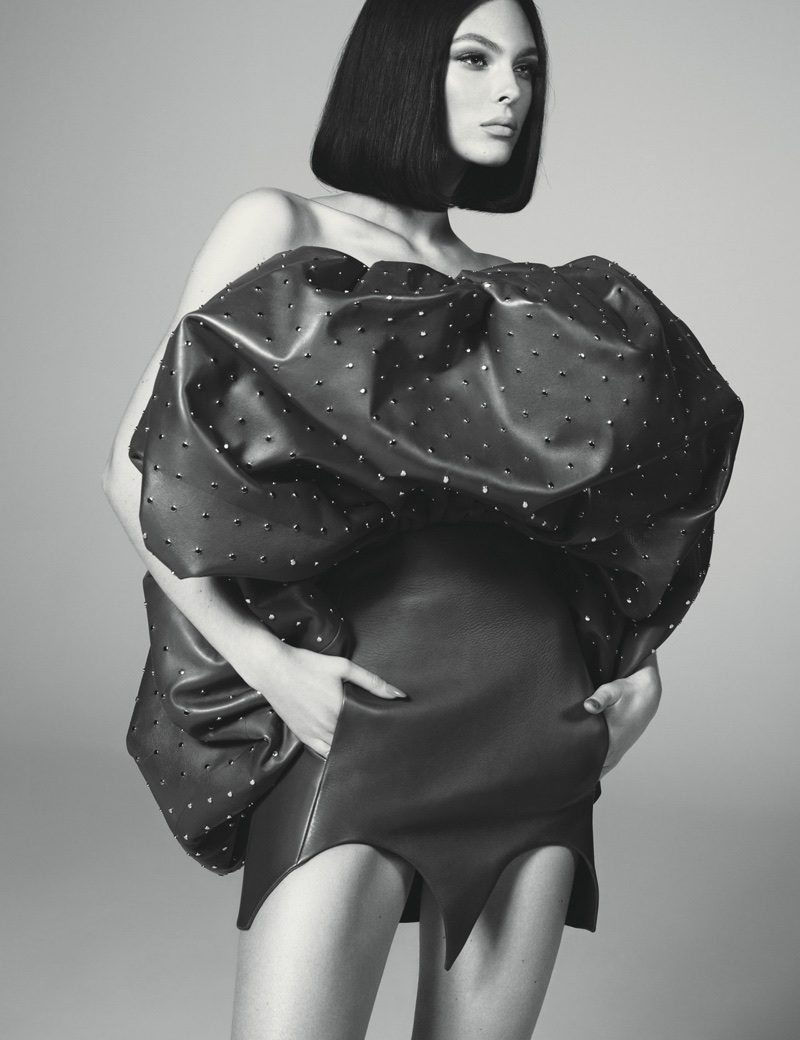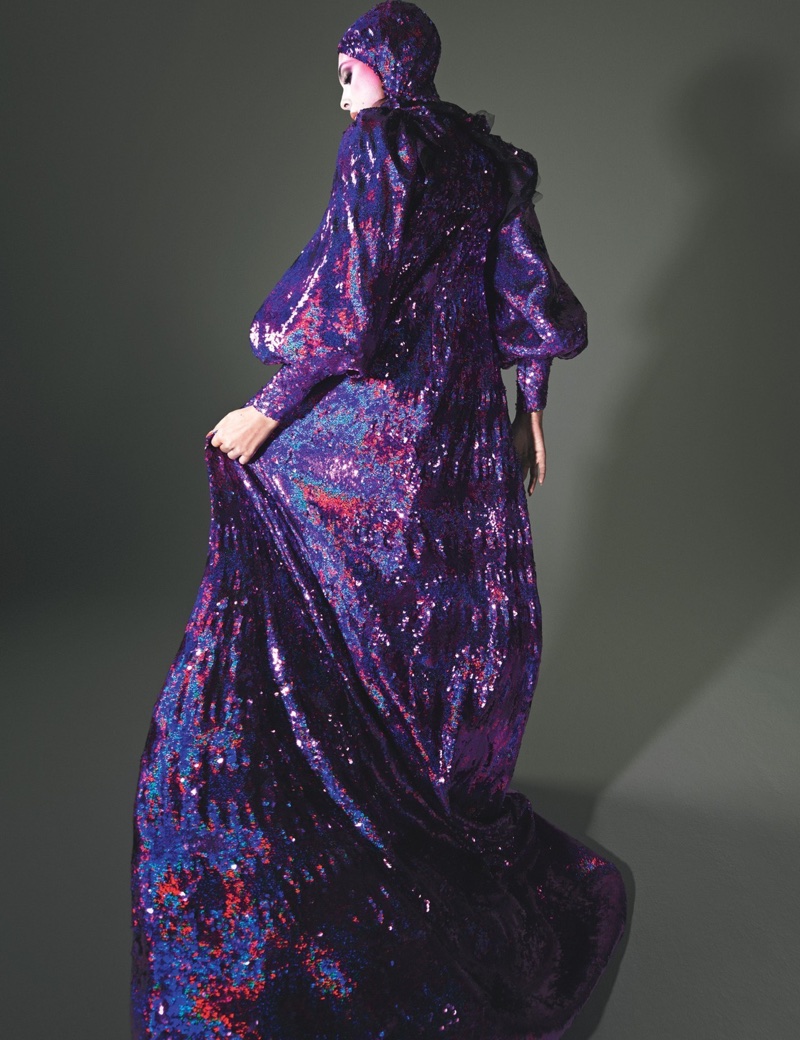 Other Brands
Other Brands
You can't have missed the Chanel Coco Pleated Drawstring Bag as it was showcased multiple times on the Cruise 2018 Runway. There are also other types of the Coco Pleated Bag released; like the Coco Pleats Clutches. This drawstring bag is only available in this season and will be discontinued afterwards. It's one of the Ancient Greek inspired handbags.
The Design
The crumpled calfskin leather on the Coco Pleated Drawstring Bag has been fully covered in the Coco Pleats Clutch review. The crumpled calfskin is kind-of the soft version of the crinkled aged calfskin on the Reissue 2.55 Bag. Both are crunch, but the crumpled calfskin is slightly less.
The pleated design is quite interesting because it maintains the leather flexible while creating an interest stripe-contrast. Also, the woven chain leather strap is attached to a round-ancient-greek-inspired eyelets, which is quite unique. The drawstring is also made with woven chain leather strap but it features the oversized, bold CC logo. And oh yes, it's the same CC logo as on the Gabrielle Bag.
You can carry this back cross body, or cross body but then like a backpack on your shoulder. This bag is beautiful, unique and limited.
The Interior
Each of these drawstring bags is spacious. Depending on the size, you can load a lot of stuff inside. And the leather is flexible, so overstuffing is not recommended, but possible. It's the ideal bag if you need to transport a lot of essentials.
The Prices And Sizes
Chanel Small Coco Pleats Drawstring Bag
Style code: A91757
Size: 6.3 x 6.3 x 5.1 inches
Price: $3200 USD, €3150 euro, £2920 GBP, $5290 SGD, $27400 HKD, ¥419040 JPY,16650 MYR, $4375 CAD
Chanel Coco Pleats Drawstring Bag
Style code: A91759
Size: 9.8 x 9.4 x 6.3 inches
Price: $3800 USD, €3750 euro, £3480 GBP, $6300 SGD, $32700 HKD, ¥498960 JPY,19800 MYR, $5225 CAD
Chanel Small Coco Pleats Backpack
Style code: A57145
Size: 11.4 x 5.9 x 5.9 inches
Price: $5100 USD, €5150 euro, £4780 GBP, $8650 SGD, $44900 HKD, ¥684720 JPY,27200 MYR, $7175 CAD
Chanel Medium Coco Pleats Backpack
Style code: A57142
Size: 16.5 x 5.9 x 5.9 inches
Price: $5300 USD, €5350 euro, £4960 GBP, $8990 SGD, $46600 HKD, ¥711720 JPY,28260 MYR, $7450 CAD
Chanel Large Coco Pleats Backpac
Style code: A57146
Size: 18.9 x 9.4 x 9.4 inches
Price: $8200 USD, €8100 euro, £7510 GBP, $13610 SGD, $70600 HKD, ¥1077840 JPY,42780 MYR, $11250 CAD
More Images And Colors
Designer Bags, Wallet, Purse, Belt & Accessories Official Site, Best Price & Quality, Free Worldwide Shipping, Free Returns. Every Bag Is A Work Of Art - Handmade - Cowhide Art - Can Custom-Made

Categories

New Posts

Hot Posts